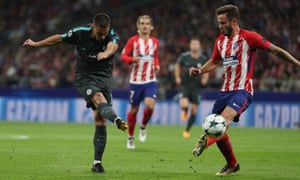 Atletico Madrid 1 Chelsea 1:
Who cares if Atletico Madrid will not be pleased
that the first goal scored by an opponent in
their shiny new stadium came of the head
of a Real Madrid old boy who've they've
spent all night jeering. Eden Hazard sent in
a sensational whipped cross at speed and
on the edge of the six-yard box, Morata got
in front of his man and used the pace of the
ball to flick a header pass Jan Oblak. That's
his seventh goal for Chelsea , but only his
first against Atletico in his seventh match
against them.